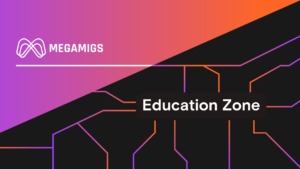 The MEGAMIGS Education Zone – where you'll find training courses that lead to video-gaming careers!
Crédit image : Alex Chocron
Are you creative, passionate about video games, and into technology? Have you thought about studying video gaming, 3D animation or digital design? MEGAMIGS is a terrific event that can help guide you to a video-gaming career.
Interested? Seven higher-learning establishments (including CEGEPs and universities) will showcase their study programs in digital creation in the Education Zone, presented by SYNTHÈSE as part of MEGAMIGS, Québec's not-to-be-missed video-gaming industry event. 
Come with your friends, family, and classmates on October 21 and 22, 2022 at Hôtel Bonaventure in Montréal and meet with the professionals who work in the video-gaming sector.
In the Education Zone, you'll find booths for various educational institutions where you can ask all your questions regarding post-secondary studies to teachers and program coordinators. Representatives from the establishments listed below will be there:
Also on the agenda are activities designed to let you know more about the various study options:
Friday, October 21:
Come and explore the

diverse profiles of students

who are studying video gaming in Québec. This is a great opportunity to listen to

personal testimonials

, explore

student portfolios

, and ask questions about

real-life experiences

.
Saturday, October 22: 
Come and watch

presentations by schools

on their

training programs

. What a fantastic opportunity this is to ask all your questions about

prerequisites

,

target profiles

, teachers'

backgrounds

,

subjects

on the curriculum,

skill-development

,

job-placement rates

, and the

types of jobs

these courses can lead to!
In addition, MEGAMIGS enables you to learn more about the local and international video-gaming industry by visiting the booths of the many gaming studios based in Québec – where you can test-drive their latest releases!
To attend MEGAMIGS, visit the online ticket office* with an adult. The event is free of charge for attendees aged 12 or under, if you want to bring a younger sibling along. The general admission price for one day is $20.
*SYNTHÈSE offers 10% off your choice of ticket; just use the following promotional code, MM22-SYN-10-A7TC4, at the online ticket office prior to making your payment!
We look forward to seeing you there! Enjoy the event!
SYNTHÈSE is a proud partner of the 2022 edition of MEGAMIGS. Find all post-secondary courses available in digital creation in our post-secondary training section.