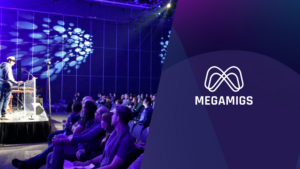 Academia Summit – a day-long showcase for video-gaming R&D at MEGAMIGS
In collaboration with QFTC, CDRIN, and Eidos Sherbrooke, SYNTHÈSE has contributed to the content of the Academia / R&D program, which will be held on Tuesday, October 18, 2022 at Hôtel Bonaventure as part of MEGAMIGS. Here is an overview of what to expect.
10 to 11 AM: R&D culture in your studio
First up, at 10 AM, is a panel discussion led by Martine Bertrand of DNEG on "R&D culture in your studio." On the basis of testimonials from several major Québec studios, including Frédéric Robichaud of Gearbox and Colin Barré-Brisebois of EA, the panel will consider the importance of developing an R&D culture within gaming studios and the complex task of building such a culture into the production cycle.
11:15 AM to 12:15 PM: Artificial intelligence and artistic creation
Following the panel discussion, an hour-long case study on artificial intelligence and artistic creation will be presented at 11:15 AM. The case study, presented by Anne Gibeault of Phoenix Labs, will highlight the various ways in which artificial intelligence is used to inspire product innovation across the digital-creation sector. Participants include Alexa Jolicoeur-Martineau of McGill University, Vahe Vardanyan of CDRIN, Eric Bellefeuille of Ubisoft, and Bianca Lavric of Eidos Montréal.
1 to 2 PM: The serious side of gaming – support for R&D
After the lunch break, Barbara Decelle of Ivado will lead a panel in collaboration with Jean-François Malouin of Super Splendide and Pierre-Louis Bellec of Université de Montréal on the gaming sector's support for R&D. The panel will discuss the application of video-gaming to medicine and the digital arts. It will also showcase the various serious applications of gaming in the therapeutic treatment of conditions such as autism and lazy eye.
2:45 to 3:45 PM: USD: new production pipelines and impacts on the metaverse 
At 2:45 PM, François Devic of Eidos will greet guests Sébastien Miglio of Epic, François Lord of École NAD-UQAC, Louis Marcoux and Philippe Sawicki of Nvidia, and Guillaume Laforge of Autodesk to talk about the various uses of Universal Scene Description (USD) in video gaming. Entitled "USD: new production pipelines and impacts on the metaverse," this panel discussion will focus on correlations between video games and Nvidia's Omniverse and the tools that Unreal provides for developing new digital content production pipelines.
4:00 to 5:00 PM: Looking back on 2022: innovation and research in the video-gaming sector
The day comes to a close with a presentation, featuring Martin Talbot of Frima and Frédéric Robichaud of Gearbox, that looks back on 2022 with a focus on innovation and research in the field of video gaming. This conference, moderated by Myriam Beauvais of Roblox, represents Siggraph of Montreal, and will cover the latest applied research in video games, artificial intelligence, new production-chain processes, powerful graphics software, rendering, and cloud gaming.
Program and 50% discount on tickets
Join SYNTHÈSE and its partners for this event on Québec's expertise in video-gaming R&D and innovation.
View MEGAMIGS's full program.
To buy your ticket, visit the MEGAMIGS online ticket office. SYNTHÈSE offers a 50% discount on any "Summit" ticket using the promotional code: MM22_ACAD_25_MAZ3X.
Looking forward to seeing you all!
The SYNTHÈSE team
More panel members and speakers will soon be announced for the event.