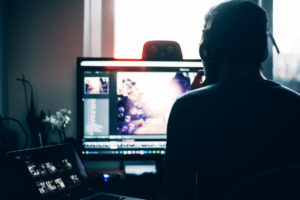 The art of building and presenting a portfolio
Keep your objective in mind
One mistake many job hunters make when sending out applications is to apply for every possible job in the industry, hoping that one will magically correspond to their profile. But there are several things to consider before you start any job search and present your portfolio:
What is your goal?

Is the position for a generalist or a specialist?

Do you like exploring many different aspects of an artistic project, or do you prefer to concentrate on a specific discipline?

What sort of structure do you want to work in?

What type of project do you want to work on?

What technologies or programs do you want to work with?
As complex as these questions are, they are what will determine how you will present and align your portfolio, regardless of the company or industry you want to work in.
The "one size fits all" myth
The job market in Québec's digital creation industry is huge and diverse; there are many studios that all have very different needs. Depending on the position and specialty, a job listing will have specific prerequisites in terms of style, complexity, software, and technical skills. I generally suggest keeping a complete library of your presentable work and material that you can adapt to the specific needs of the position you are applying for. For example, let's say you see a position for a texturing artist at a studio you admire, but your portfolio tends to be more general—it does include textures but also modelling, animation, visual effects, and lighting. What should you do?
Given the influx of applications the recruiter is likely to receive, they would quickly narrow down the list to candidates who clearly have an interest, skills, and a portfolio that prominently features their work in textures.
So in this situation, it would be a good idea to isolate your texture work in a separate file, which makes it clear that you understand the prerequisites and that this is a skill you possess. Nothing prevents you from rejiggering your portfolio when the time comes to explore other disciplines. Try to put yourself in the shoes of the recruiter and the hiring manager who is trying to match your portfolio with a specific need.
To hyperspecialize or not to hyperspecialize
With the arrival of major international studios and the birth of small, local independent studios, the industry's employment needs are significant but quite varied. In Québec, we have observed a trend toward hyperspecialization on large projects. This means that artists will do very different work depending on the studio's structure, and your portfolio should reflect this difference. For example, if a studio seeks someone who can do a range of work, your portfolio should highlight your versatility; for a specialized position, your portfolio should feature a narrower and more focused selection of your work. As an artist, it's good to understand what kind of work you enjoy, whether as a specialist or a generalist, within a team before you apply. This will help you target your job search and ensure that your portfolio suits the type of job you are looking for.
Extracurricular work
I am often asked if personal artwork is appropriate for a portfolio. My response is "absolutely," if you place it in another section of your portfolio. Indeed, I often meet managers who are more interested in personal work than in academic or professional work. For example, a modelling manager might be curious about your sculpture skills, a compositing director might be interested in seeing your photography work, and a character creation manager might want to know about your freehand anatomical drawing skills. So personal artwork does have a place in your portfolio, but it should be in a well-identified section. To take this another step, you might also consider highlighting this work in your CV, in the "interests" section.
Format
For a portfolio's format, I tend to focus on simplicity. You want to provide one-click access to high-resolution, ad-free versions of your work, ideally without the use of a password (except for confidential content). Regardless of the platform you use (Art Station, Behance, Youtube, Vimeo, personal website, etc.), fast and easy access to your work is primordial. I therefore advise against highly creative and complex websites and fast montages; rather, I suggest concentrating your design work on the content rather than the container. Especially for new graduates, your artwork will often be collaborative, so it is important to clearly explain your involvement in group projects, even if it is only minimal. It's ok to include a collaborative piece you are especially proud of, even if it is not solely your work. Just clearly indicate it as such.
For static 3D projects, 360-degree rotations are often appreciated, and this is likely what a manager will spend most time on. For visual effects such as compositing, a way of viewing your work in stages (layers) tends to be appreciated because it clearly shows your creative process.
And a note on confidentiality. Throughout your career, you will want to add pieces of your own work to professional projects. Make sure that you obtain the necessary authorizations and information from your employer (or former employer) on the rights for these pieces. For example, some employers will give you authorization but will require that the works be password protected. The terms of this confidentiality are very often included in the nondisclosure agreement signed when you are hired. This could save you from potential legal action.
Quality versus quantity
I regularly encounter applicants, often new graduates, who agonize over the thought of not having enough material in their portfolio, as if having more would automatically increase their chance of getting a job. I tend to focus on quality, even though I often see applicants place their best work first only to have the quality decline toward the end of the portfolio. This causes the managers studying the application to question the applicant's judgement and quality standards. When you look at your work, ask your colleagues, professors, or mentors for honest feedback, and if you feel that a piece does not best represent your very highest standards, I strongly suggest that you remove it from your portfolio and spend more time on it until it does meet a standard that represents your finest work.
The length and number of pieces in a portfolio can vary depending on the situation, but on average, it might contain 3 to 10 static pieces (modeling, texture, lighting, concepts) or 20 to 60 seconds of 2D or 3D animation. The number and length of the works will vary according to your experience, but this should give you a good average.
It is also good practice to regularly add professional works to your portfolio throughout your career, when possible, to show your progress and to attract opportunities. You never know when you'll be looking for a job, and it's better to be prepared.
The power of story telling
Congratulations, you are almost at the finish line. Your works are adapted to your ambition, your objectives, and your dream project. But one thing many artists forget is to tell a story with their portfolio. Too often candidates get to the interview so stressed that they freeze or forget important details when talking about their work. So I advise you to engage in a writing exercise, using the following points to structure your creative process into a story:
Human challenges and team dynamics
Your sources of inspiration
The time involved
Software used
Context of the work
Initial instructions
What you would do differently
Community feedback
Ours is a very active community, and there are numerous mentors out there who are happy to provide honest feedback on your work. So do not hesitate to seek out opinions from colleagues, mentors, or industry professionals. Social media is overflowing with discussion groups, and I encourage you to get involved and share your work. It will give you tips for perfecting your work when it comes time to apply for a job. A good example is a manager whom I hold in high esteem, the highly experienced Montréal animation lead Patrick Heumann. He makes a series of videos called Honest Reel Review, which you can find here.
Have a great career!