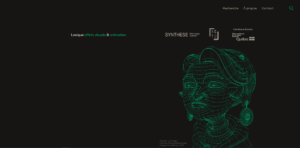 lexique-3D.com: a new development for French speakers in the visual effects and animation sector
Image credit: Sébastien Lamontagne Animation 3D et synthèse d'images Cégep du Vieux Montréal (CVM)
Montreal, March 9, 2021 — The Quebec Film and Television Council (QFTC) and SYNTHÈSE are pleased to announce the launch of a new French-language glossary dedicated to the visual effects and animation industry. Developed with the financial support of the Office Québécois de la Langue Française, this online tool, free and available to everyone, is intended to facilitate the use of correct French terminology for professionals in the sector. 
Growing rapidly in Quebec and around the world in recent years, the visual effects and animation industry is still relatively young, and has therefore had to develop its own terms in order to describe practices and terms specific to the creation of digital images for film and television, relying in particular on software most often developed in English. 
Various sources subsequently proposed French versions for these terms, but there was still not yet a centralized resource that people could turn to when they wanted to find French terminology corresponding to the original English word.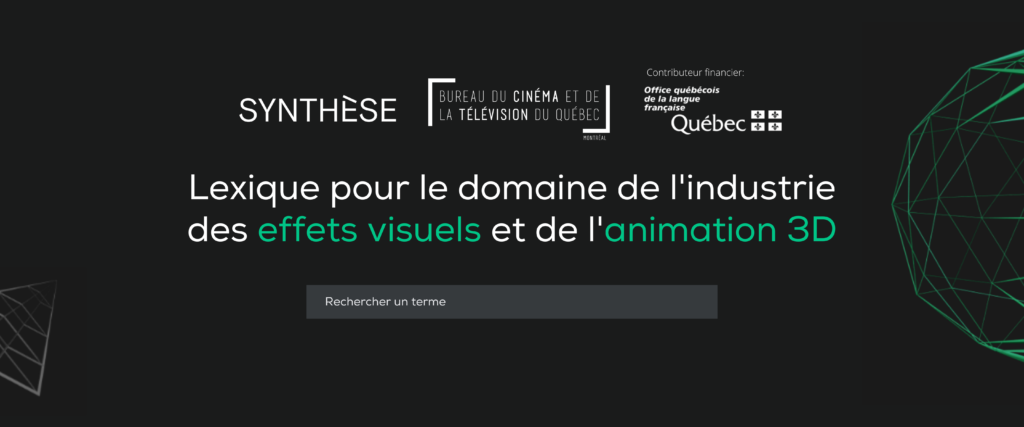 Created by a linguist, the glossary aims to meet this need by bringing together the important concepts in the field of visual effects and 3D animation via a modern, easy-to-use platform that is destined to be enhanced over the coming years with the input of industry professionals. The French forms of the terms are those recommended by reference works such as the Grand Dictionnaire Terminologique, or by specialized resources in the field.
"We are very proud of this new tool, which we hope will facilitate the daily lives of human resources professionals, teachers, and all workers in the visual effects and animation industry, thanks to a simple and well thought out website," stated Pierre Moreau, CEO of the QFTC. "We hope that this glossary will become a reference tool for the industry throughout the French-speaking world."
"SYNTHÈSE is very pleased to have participated in the creation of this new glossary in order to encourage the adoption and integration of 3D animation and visual effects terminology in French by workers in this sector. We are convinced that this reference lexicon will promote the correct usage of specific terms when drafting official documents or recruitment ads, while facilitating communication in French among industry professionals," explained Brigitte Monneau, Executive Director of SYNTHÈSE.
The glossary allows you to search for a term in French or in English to find the corresponding French term and its definition. 
Visit the site: lexique-3D.com
The QFTC and SYNTHÈSE extend cordial thanks to the students of the Cégep du Vieux Montréal, the school ISART Digital and the UQAT, who graciously offered several virtual 3D works to illustrate the platform. 
We would also like to thank Lorraine Boury, Fortunato Frattasio, David Grondin (Atoll Digital), Francis Lapointe and Anne Le Bouyonnec (SYNTHÈSE) for their support in the development of this project.