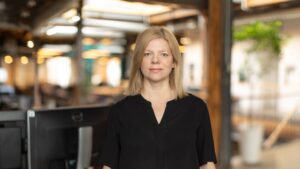 Elise Voyer joins the SYNTHÈSE team
Crédit photo : Jean-François Massé (Rodeo FX)
With 28 years of experience in the audiovisual production and post-production sector, Elise Voyer is now a member of the SYNTHÈSE team as Senior Project Manager.
Elise brings to SYNTHÈSE the expertise that she has gained from working on numerous projects for renowned local and international creators and clients. She contributed to more than 30 films, 20 short films, 500 commercials, several TV and Web series, video clips, a variety of corporate projects and a few exhibitions.
Elise worked at Ex-Centris for 8 years as a post-production manager with Daniel Langlois, then for the branding agency SidLee and at MPC, followed by a position as head of the 3D department at Atomic Fiction (now Method Studios), where she managed a team of 130 artists in the Oakland and Montreal studios.
More recently, Elise has worked as a visual effects producer at Rodeo FX on several event, advertising and corporate projects, including famous Thierry Mugler Couturissime exhibition and Slipknot's electrifying Unsainted video, winner of an AEAF Award in 2020. She was then given the position of Training Manager, allowing her to develop her interest in education and the development of expertise in the role and the image professions.
At SYNTHÈSE, she will be in charge of the development of the EXPERTS learning platform and of a project to promote careers in digital creation among young people.
The SYNTHÈSE team welcomes her!