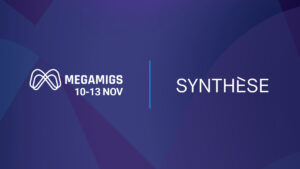 SYNTHÈSE is a proud partner of the Education Zone at MEGAMIGS 2021
For the third year in a row, SYNTHÈSE is partnering with MEGAMIGS and will present the EDUCATION ZONE from November 10 to 13. This new edition will be 100% virtual and will focus on gameplay and discovery. The Education zone will focus on the promotion of Cégep and university programs as well as careers.
This year's program will include a virtual exhibition for schools and companies, conferences, showcases and demos to test the latest innovations as well as business development activities. The MEGAMIGS is targeting the general public, students as well as professionals of the video game industry in order to make the local and international industry be discovered and shine, and thus help game development studios to be known and to recruit new talents.
As a partner of this new edition, SYNTHÈSE offers the following benefits to public educational institutions:
A 20% discount that can be combined with the 25% discount offered by MEGAMIGS on the current price for a virtual exhibition booth in the Education Zone (offer that can be combined with the super early bird that ends on May 31, 2021).
A 30-minute virtual conference (+ a 10-minute Q&A, max. 2 speakers per presentation) – For exhibiting public educational institutions in priority – On a virtual stage, to present your institution, your digital arts and video games programs, jobs and careers or the career path of your students or alumni. It's up to you to choose the content you want to put forward! Places are limited: first come, first served.
Possibility to display a short promotional video during the interstices between two virtual conferences.
Free tickets: SYNTHÈSE offers 30 conference tickets (value $97.73 + taxes) to professors with a current course load so that they can keep abreast of the latest developments in the industry and discuss with experts.
General public access: Please note that this year, general public access is 100% free, giving access to the Virtual Expo, exhibitor showcases, game demos and trials and free activities.
For more information on the different booth formats or to register as an exhibitor: click here.
For any questions regarding the virtual booth, please contact directly: exposant@megamigs.com
For any questions regarding the 30-minute virtual conferences, please contact Albane Français: afrancais@polesynthese.com
We are looking forward to seeing many of you here.
The SYNTHÈSE team